We Love To Strip and Wax…Floors!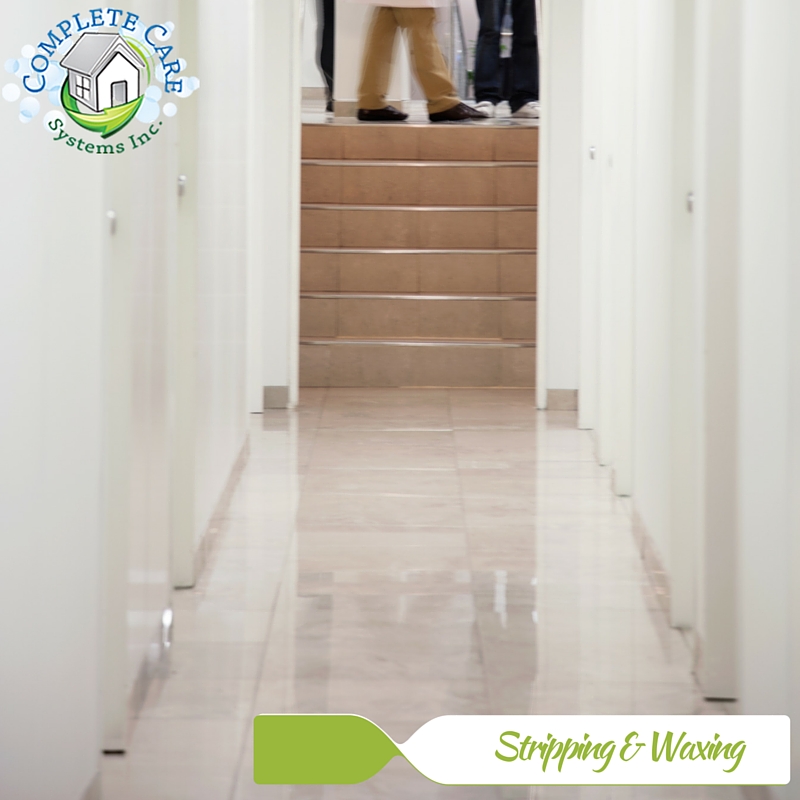 Vinyl, VCT and Linoleum floors are very durable flooring options and are a great choice for high traffic areas or spaces that get a lot of wear and tear.  Their ability to be waxed for a high shine finish helps add to the overall design of the space and creates a clean finish.
Over time, traffic wear and tear, soil, debris and wax build up can make floors look aged, dull and dirty.  The best way to conquer the tired appearance of waxed floors is to strip them followed by a fresh coating of wax.
Stripping and waxing flooring should always be done by a reputable professional, equipped with the correct tools, proper training, supplies and knowledge of the flooring to be stripped and waxed.  Not having the proper training and tools will result in a botched finished product which may be costly to fix.
Some of the questions you should or things you should look for when hiring a professional to strip and wax your floors are:
How much experience does the company you are hiring have in stripping and waxing floors?
Where and how were they trained to strip and wax floors?
Do they participate in continuing education where they are learning about the latest products and techniques used?
Ask for a list of references of customers
Do they practice the technique of sectioning off and working in just one area of the flooring at a time
What is the company's safety protocols or best practices when stripping and waxing?
What products will be used to strip and wax the floor.
How many coats of wax will be applied?  This is important!  It could be the difference between a beautiful out come and a disaster!  Generally the answer will be 4-6 coats.  However, the more precise answer will depend on the waxing product used and the manufacturers guidelines.  Do your homework.  Based on their answer above, you should be able to easily find out how many coats should be used
Ask for advice and best practices regarding wax floor maintenance
Complete Care Systems is expertly trained in stripping and waxing vinyl, VCT and linoleum floors.  We would love to consult with you, answer any questions you may have about your flooring and how to make them the best they can be!  We offer FREE estimates.  Call us today:  727-364-5158