VCT Stripping & Waxing Pasco County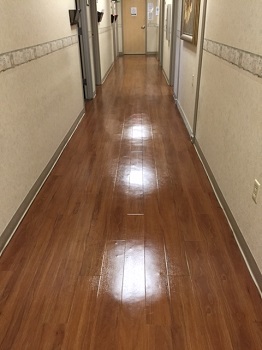 Restore your floors to their original vibrant shine! VCT (Vinyl Composition Tile) and Vinyl flooring need special care. Complete Care System's stripping and waxing services have kept commercial flooring shining across Pasco County for many years. We have the tools, techniques and experience to restore your neglected floor.
With proper stripping and waxing, your floors will maintain their shine and will be able to withstand everyday wear and tear.
We use the highest quality products and apply the appropriate amount of wax to give you the best possible shine. With regularly scheduled proper maintenance, Complete Care Systems can help you extend the life of your VCT and Vinyl flooring.
VCT Stripping
We love to get the best shine on your VCT floors. To do that first we sweep the entire area of debris. Then we apply the stripper and let it dwell for 10-15 minutes to start dissolvig the wax. We then use a floor scrubber machine with a 3M scrubbing pad to separate the wax from the floor. We take the extra step of using a "skirt" around the scrubber so there is no splashing on your walls or furniture. For the areas that the scrubber cannot get into we scrub those by hand. Once the wax has been separated from the floor we extract it from the floor by using clean water and a special mop. The floor has to be completely dry before we begin applying the wax.
VCT Waxing
Once the floor is dry the floor is coated with four even coats of wax. After each coat is applied there is a wait time of approximately one hour for it to completely dry. We do not to use fans to accelerate the drying process, we prefer to let it dry naturally this cuts down or eliminates any air bubbles.
Replacing your VCT floors can be costly! Before going that route, check to see if they can be restored. Your Free No Obligation estimate will quickly let you know which direction to go is best for your business. Call (727) 364-5158 or Click the Button below to schedule your Free Estimate.