Tips and Tricks: Tile and Grout Cleaning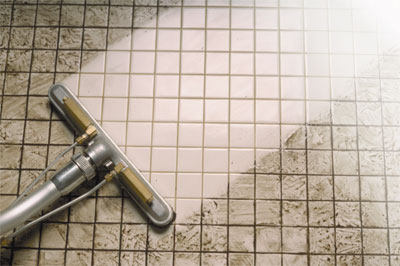 Everyone want their tile and grout to look nice all year round, but not many actually look nice. Why is this? We scrub at them a couple times a week and they still have films or stains. Lets explore the reasons why our tiles do not always look their best.
1. Over time the dirt starts to cling to your tiles, especially in high traffic areas. This will start to age them slowly over time, which makes them start to look worse and worse the longer you have tiles.
2. The type of cleaner you buy plays a big roles in how your tiles look and feel. Most low end cleaners eventually leave a film (quite possibly a sticky film) that nobody wants in their home.
3. Take a good look at your grout lines. Most likely you will see small holes or cracks. These are the breeding ground for mold and bacteria. The mold and bacteria grow at a steady pace and could cause your whole family to become sick. Depending on the temperature in the room depends how fast the mold and bacteria will grow, but either way you do not want those silent killers in your home.
These three problems could easily be fixed with a yearly call to your local cleaning expert. If you live in the Tampa Bay Area then Complete Care Systems can help you with all of your tile and grout cleaning needs. We not only clean, but we also replace grout, color grout, and seal tile and grout.
www.completecaresystem.com
727.364.5158
HELPFUL HINT: In between yearly cleanings from a professional you will want to clean your tile and grout at least once a week. You will want to use a product that is mid range in price because it will not leave the unwanted residue that the other cleaners will leave. Just remember that after you use any product to rinse the floor with clean water to get any excess dirty up and to help take the harsh chemical off of the floor that you do not want your family to touch!