It's Moving Season! 3 Things You Should Do Before You Move In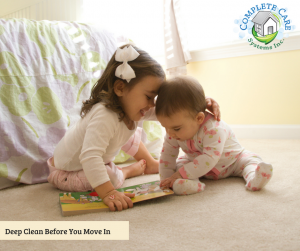 This time of year is typically known as moving season.  People tend to schedule moves as the school year comes to an end to make transitions a little easier on families.  If your household will be one that moves during these next several months, there are 3 things you should do before you move in.
Deep Clean The Carpets
This is huge!  Whether your home is newly constructed or it has had previous tenants, it is important to get your carpeting deep cleaned.  Here are a few reasons why:
Reduce allergens.  Since you won't know for sure when the last time the carpets were professionally cleaned it's a good idea to get them deep cleaned.  It can help your family breathe a lot better! A deep cleaning will remove things like:

Allergens

Dust Mites

Fleas

Germs

Bacteria

Odor

Even if your home is a new build, you will want to have your carpeting deep cleaned to remove dust and odors left behind by contractors.

Deep cleaning can help maintain high traffic area and a deep cleaning will also reveal stains and spots allowing them to be treated properly
Bathroom and Kitchen Tile
Let's face it, household cleaners can't blast through dirt, soil, soap scum, backsplash cooking grease, mold and mildew like professional cleaners can.  A professional cleaning can help you eradicate these types of soils ensuring your family moves into a sanitized, clean, and healthy home!
Grout
Grout is porous!  That means, it can easily trap small particles of dirt and allow for mold and mildew to grow.  A deep cleaning can not only clean your grout but it can also make your grout look like new again.  
Grout Sealing
Did you know?  Contractors do not seal grout after building your home.  Grout that isn't sealed will get dirty and dingy quickly.  Whether you have just gotten your tile and grout deep cleaned or your contractors have just turned your new house over to you, it is a good idea to have your grout sealed before you move in.  This will help you maintain and extend the life of your grout.
If you need help prepping your home before you move, give us a call.  We can get your home in "ready to show" status when you put it on the market, or we can get your new home move-in ready!  Call us to schedule an appointment today: (727) 364-5158