Carpet and Upholstery Care After the Storm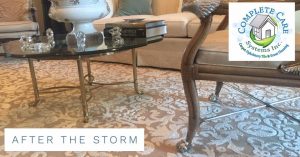 Now that Hurricane Irma has passed and we are cleaning up and getting back into our routines we need to pay attention to our carpets.
During the storm, if you lost power for more than one day, you may be noticing an odor in your home.  This odor is a result of carpeting and upholstery being exposed to damp, humid, moisture-rich air.  If left untreated, your carpeting and upholstery may begin to grow mold.
Here are some things you can do to remove the odor from your home and stop mold and mildew in their tracks:
Get the air-conditioning back on as soon as possible to pull the moisture out of your home

Take the time to get your carpeting and upholstery deep cleaned.

  

Professional cleaning can include antifungal and antibacterial properties to stop mold and mildew in their tracks

Distribute baking soda over the affected area and allow it to sit for some time before vacuuming it up – this will help to neutralize the odor but a deep, professional cleaning will be needed to help restore the carpeting

Don't ignore tile and grout.

  

Mold and mildew can begin to grow in damp corners left untreated or cleaned
Clean up after a storm is never easy.  There is lots to do outside but, you also need to tend to the conditions inside.  Although windows may not have been broken and you may not have experienced a flood, you still may have issues with mold and mildew in your carpeting and upholstery.
If you are unsure how you should handle your carpeting, give us a call.  We offer free estimates and we can advise you on your best course of action.  We can be reached at: 727-364-5158