8 Things You Can Do Starting Today to Keep Your Tile Looking Its Best and Prolong Its Life!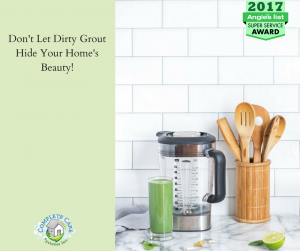 Grout can either make or break your tile.  Let's face it, when your grout is dirty, discolored, faded or loaded with black mold, it makes for an unsightly room.  It ages your home and makes it look dull, dingy, and dirty.
Great news!  You don't have to put up with ugly tile due to dirt and grime.  Below is a list of 8 things you can do to keep your tile and grout looking brighter in between deep cleans:
Keep tile and grout dry.  Something as little as an ice cube can cause issues with discoloration, mold, and mildew growth.

Place area rugs in high traffic areas to protect tile and grout.  Grout is porous and can trap dirt and debris making tile look dirty and dull.

Clean tile and grout weekly with a non-abrasive cleanser, removing soils that dull tile.

Vacuum tile first before cleaning tile with cleanser and water.  Debris sitting on top of tile and grout can get embedded into grout and scratch tile finish when moved around with a mop.

Scrub grout with a toothbrush to clean out its porous surface.  Trapped debris can make tile and grout look dirty no matter how often you clean it.

Once your tile is clean, make sure to rinse your tile and grout with plain water.  This stops cleanser residue build-up. Residue is another contributing factor to dull tile.

Furniture legs with sharp edges can scratch and chip tile and grout.  Add floor pads to furniture legs to protect your floors.

Get tile and grout professionally deep cleaned to remove stains, embedded dirt, and soils that household cleaners can't reach.
Tile is one of the most versatile and durable flooring options available.  The key is maintaining it properly which will ultimately extend its life. When your tile is ready for a "facelift", consider recoloring your grout.  You will be amazed at how new your tile looks and how new grout color can change a room!
Do you need help with keeping your tile floors looking their best?  Contact us! We can help! Call us to schedule an appointment today: (727) 364-5158