3 Reasons Why You Should Seal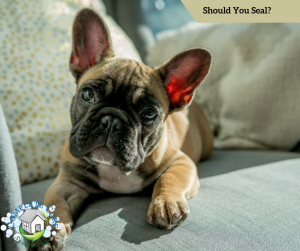 We get that question A LOT!  People like to know if they should seal their carpets and upholstery to protect them from spills and stains.  The same thing goes for tile and grout.  Does it make sense to seal your bathroom floors, kitchen floors, counters and backsplashes?  We are going to give you 3 reasons why you may want to consider sealing carpet, tile, grout, and upholstery.
REASON #1:
Prolonged Life!  Whenever you can protect something against everyday wear and tear, you can bet that the prevention you put in place will help to extend the life of the item you are protecting.  
REASON #2:
Kids and Pets!  Need we say more?  They are so adorable but they can bring on the messes!  A juice spill here and muddy paw prints there can really take its toll on carpet, tile, grout, and upholstery.  Stains on fabric and carpet fibers are hard to get out.  What's even harder is removing stains from porous grout.  One little stain and ruin the look of an entire room!
REASON #3:
Soap Scum & Mold.  Yuck!  Our bathrooms take a beating!  A good sealing job can help keep the mold away and make tile clean up a lot easier.  Another area of the house that can benefit from tile sealing is the kitchen!  Think backsplashes, tiled floors, and countertops.  Porous grout can trap stains like pasta sauce, grape juice, red wine, and more.  Protect the heart of your home with tile and grout sealing.
Are you ready to seal?  We can help!  Contact us today:  727-364-5158